Rally For Peace, 2005
On
March 19th, 2005
(exactly two years after war was imposed on Iraq) almost 50,000 campaigners met up in London to
Rally For Peace
. Protestors did not just come from all over the country, but from all over the world, to mark the two year anniversary of the war.
Not only did the rally demand withdrawal of troops from Iraq, but from Iran and other such countries that have suffered great losses in their citizens, economy and community since the invasion of US and UK troops. Protestors demonstrated against the New Labour government, mainly targeting Mr. Tony Blair (leader of the Labour party, and Prime Minister) for his support of the war. George Bush (American Prime Minister) was also targeted for the suffering he is responsible for and the lives he has taken. Some protestors made it clear they were opposed to nuclear warfare, others boycotted Marks and Spencers (a supermarket brand supporting terrorism) and some against the greed for oil.
The marchers rallied in London's Hyde Park, where the weather was exceedingly hot and perfect for marching. The general atmosphere was energetic and powerful. "We're really hoping to make a change!" one marcher said, holding tightly to a sign featuring George Bush's face with the words 'Number One Terrorist' printed beneath it.
As the march began, it became clear that the government were expecting a protest. Police lined the streets in their hundreds, dressed in identical fluorescent waistcoats and hard plastic hats. However, despite the fact they worked for the government, some were observed taking pictures for protestors and smiling as the marchers passed.
As the march progressed, several chants got under way that amazed on lookers were inclined to participate in. Such chants included
'We all live in a terrorist regime'
in tune to the well known Beatles song,
'1, 2, 3, 4 - occupation, no more! 5, 6, 7, 8 - stop the killing, stop the hate!'
and
'What do we want? TROOPS OUT! When do we want it? NOW!'
. Some marchers were even found singing 'Give Peace A Chance' and 'Power To The People'. The march was peaceful and no violence occurred. Many marchers had whistles or drums, one marcher was dressed as a skeleton, showing the dates and locations of US illegal wars.
Bravely facing the extreme heat in a big rubber mask, one marcher had gone as far as dressing up as George W. Bush, accompanied by a young woman who was dressed as a weapons inspector. The pair were more than happy to pose for pictures, the weapons inspector pointing a plastic arrow at Bush, who held a missile labelled 'Iran?'
When asked what they thought of this, one demonstrator commented "I think it's brilliant. A perfect representative. I hope the people that still support the war will see the point this pair are making. I think the creativity that comes out at things like this is wonderful!"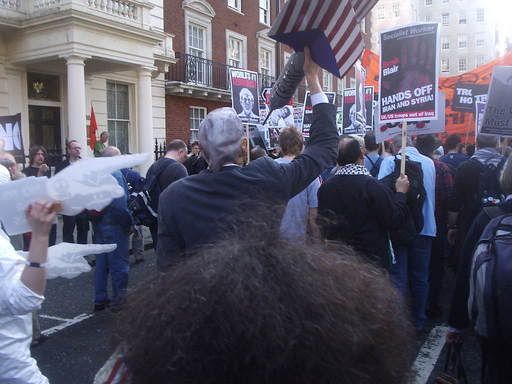 The march trailed all over London, mainly circulating Hyde Park. At one point, the thick flow of protestors ran through an upper class housing estate. The massive volume of the march brought residents out of their doorways and onto their balconies, where they were given flyers and asked to join the march for peace.
Finally, after a long and successful march, demonstrators were rewarded with inspiring speeches and performances in the famous Trafalgar Square. A representative of the Muslim community spoke out about racism in the country and how Muslims were being discriminated against due to the government's portrayal of them as being terrorists. An ex-soldier who had returned from Iraq spoke. "I have seen what Blair and Bush have not," he spoke to an eager crowd of protestors. Last to speak was ex-Labour MP Tony Benn who gave an amazingly powerful speech. He spoke of how campaigners must unite to bring peace to the country and how their energy must be targeted at those who still believe in the war. After his speech, well known UK artists 'Faithless' performed on a live stage songs such as 'Mass Destruction' and 'Bluegrass', their lyrics well known for their opposition to government and war.
However inspiring, powerful and moving this march has proven to be, numbers were still down dramatically from the march two years ago at the beginning of the war. It appears that the people of the country have given in on thinking they have the power to make a difference. With the upcoming general elections it is essential that, as a community, we unite to make a change in all ways possible. Sign petitions, attend protests, boycott war supporting companies. BE ACTIVE.